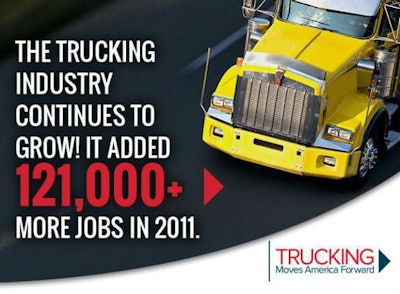 The Texas Trucking Association Foundation (TTAF) is the latest organization to contribute to the industry-wide campaign to educate the public and promote trucking in the U.S.
The TTAF Wednesday announced a $50,000 contribution to Trucking Moves America Forward (TMAF) over the next five years.
TTAF trustees approved the contribution last month voted and believe the campaign fits seamlessly with their mission, according to a statement from the foundation.
"Trucking Moves America Forward is an educational tool that will not only further the understanding of our industry, but will also ignite a passion in others for what we do," said Texas Trucking Association President and CEO John D. Esparza. "Our country is defined by the hard working men and women who travel our highways and byways delivering goods. We want to help spread that good message of safety and critical support."
TMAF – launched in March at the Mid-America Trucking Show in Louisville, KY – is an industry-wide image and internal education initiative informing policy makers, motorists and the public about the benefits of the trucking industry to help build a groundswell of political and grassroots support necessary to strengthen and grow the industry.
TMAF has received financial contributions from the Allied Committee for the Trucking Industry (ATA), Old Dominion Freight Lines, Great West Casualty Company, Pilot Flying J, Trucking Associations Executive Council and Jack Cooper Transport. TMAF has also received support from industry leaders such as National Tank Truck Carriers, National Auto Dealers Association and Truckload Carriers Association, and in-kind donations from Randall-Reilly, Transport Topics, Owner-Operator Independent Drivers Association, Overdrive Magazine, Commercial Carrier Journal and Heavy Duty Trucking.
The TXTA Foundation is the educational arm of the Texas Trucking Association, which was founded in 1932 and is based in Austin. The foundation, created in 1978, funds educational opportunities and promotes Texas trucking. Since 1994, the foundation has awarded 331 scholarships totaling $921,800 to 262 individuals, representing 111 technical school, colleges and universities.