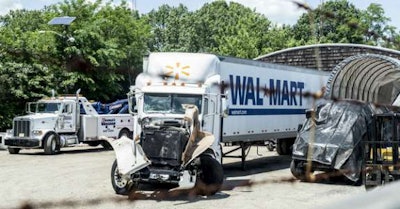 A federal judge overseeing actor Tracy Morgan's lawsuit against Wal-Mart and its private fleet has denied a motion made by the truck driver at the center of the case — who has been criminally charged — to postpone action on the suit.
Former Wal-Mart driver Kevin Roper filed an application for emergency relief asking the court to place a stay on his discovery, claiming it would damage his defense in his criminal case in which he is charged with vehicular homicide and assault by auto.
U.S. District Judge Michael Shipp said Roper didn't demonstrate that his application "requires emergent relief," due in part to his lack of urgency in submitting the application, according to court documents.
The plaintiffs in the civil suit, which includes Morgan, filed a response to Shipp's order to say neither they nor defendant Wal-Mart had indicated they would take discovery from Roper.
The high-profile crash involving Morgan and others occurred June 7. Comedian James McNair was killed in the crash, while Morgan and others were critically injured.
The crash happened on the New Jersey Turnpike when Roper's Wal-Mart Transportation truck and trailer rear-ended a Mercedes van carrying Morgan, McNair and others.
The National Transportation Safety Board (NTSB) concluded in its investigation of the crash that Roper was driving about 20 mph over the posted 45 mph speed limit. The NTSB also reported that Roper had immediately before starting work commuted in his personal vehicle more than 700 miles from Georgia to the Wal-Mart terminal in Delaware where his work day began.
Morgan and three other survivors in the crash filed a lawsuit July 10 against Wal-Mart, claiming the retail giant and its private fleet acted negligently by allowing Roper to drive, when they should have been aware he had been awake for the 24 hours preceding the crash and had to commute 700 miles before starting his work day.
The lawsuit alleges Roper fell asleep at the wheel, which led to the crash.
Wal-Mart in September issued an official legal defense saying it should be absolved of liability in the case, as Morgan and others were not wearing their seatbelts at the time of the crash.