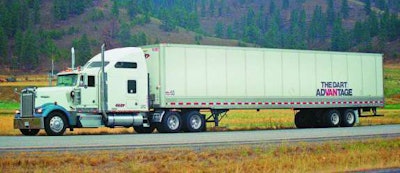 St. Paul, Minn.-based truckload operator The Dart Network is the latest company to raise driver pay.
The parent of Dart Transit Company and Dart Intermodal said it is raising driver pay by 2 cents to 10 cents per mile, with an average increase of 5 cents per mile. Dart's owner-operators will receive a fuel adjustment and accessorial pay, among other benefits. Employee drivers receive a fuel bonus.
Founded in 1934, Dart operates offers long-haul, regional and short-haul truckload driving opportunities.
The company is also offering sign-on bonuses from $3,000 to $5,000; graduates of Dart's driver finishing program receive $1,500.