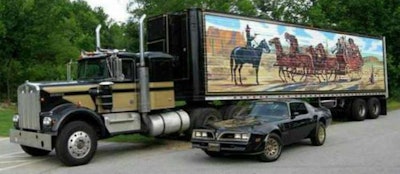 The Bandit's still got it.
Proof that folks remain huge fans of Burt Reynolds – possibly best known for his role as Bo "Bandit" Darville in the legendary 1977 trucker movie Smokey And The Bandit – came in the form of the $2.5 million raised in an auction last week of some of his film memorabilia and items from his art collection.
The highlight of the sale by Julien's Auctions at the Palms Casino Resort in Las Vegas was the $450,000 fetched by the black 1977 T-Top Pontiac TransAm Reynolds drove in Smokey And The Bandit.
Other items from the movie and the prices for which they sold include:
Bandit jacket that sold for $34,375
A pair of "Bandit" Burt Reynolds cowboy boots sold for $20,000
A Smokey and the Bandit Western shirt sold for $15,625
Smokey and the Bandit Go-Kart sold for $13,750
See items from the auction that was held, according to The New York Daily News to help Reynolds settle some financial issues.
Other items includes Stroker Ace jacket and promotional shirt sold for $9,375, his "Top Box Office Star of the Year" Award sold for $5,312, a Best Little Whorehouse in Texas badge sold for $5,000, a football trophy sold for $$1,875, a group of police badges which sold for $3,750, a license plate sold for $5,937, the canoe made for the movie Deliverance sold for $17,500 and a Bobby Goldsboro Hascal Haile guitar Reynolds owned sold for $10,000.
Still more item included the 18K gold pocket watch given to Burt Reynolds by Sally Field sold for $13,750, his 1998 Golden Globe Award sold for $21,250, his 1990-1991 Emmy Award sold for $28,125 and his 1983 People's Choice Award sold for $10,625. The football helmet Reynolds wore in Longest Yard sold for $8,125 and a John Wayne inscribed photograph to Burt Reynolds sold $11,250.
"Burt Reynolds is a legend who is loved all over the world," said Darren Julien, president and CEO of Julien's Auctions. "His collection, which was full of iconic pieces of career memorabilia and personal items, once again proves to be a solid investment with bidders who attended the auction from every corner of the globe this week."
Reynolds' acting career included a breakout role on the 1960's TV show Gunsmoke, as well as leading roles in Stroker Ace, Boogie Nights, Striptease and Deliverance.