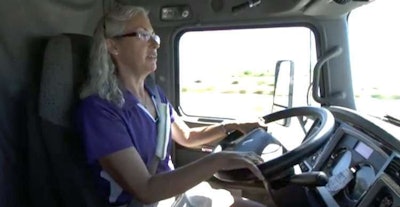 Women truck drivers are the focus of a new video series being produced by one of the largest trucking companies in the U.S.
Con-way Inc. (Ranked fifth on Commercial Carrier Journal's Top 250 List) today announced the launch of its new "Women in Trucking" web video series, which showcases the lives of women who drive for the Ann Arbor, Mich. fleet.
The series will follow two of Con-way's top professional drivers:
Ina Daly, driver sales representative for Con-way Freight, the less-than-truckload carrier subsidiary of Con-way Inc.
Stephanie Klang, professional driver for Con-way Truckload, the company's full truckload carrier subsidiary.
"Professional truck drivers fuel our economy and are committed to the highest standards of safety," said Bert Johnson, vice president of human resources at Con-way Truckload, which provides regional and long-haul full-truckload transportation throughout North America. "This series will provide a view into the lives of some of the most accomplished drivers in our industry, and hopefully break down some of the negative stereotypes of truck drivers while also educating people about a viable and rewarding career option."
The series will be featured on both Con-way Truckload's and Con-way Freight's YouTube channels, with regular new episodes filmed by Daly and Klang in their daily routines.
"Truck driving can provide a variety of career paths, depending on a person's aspirations and experience," said Terry Riordan, director of human resources at Con-way Freight, which through over 400 locations provides day-definite less-than-truckload shipping services across North America. "Whether it's interacting with customers daily on pickup and delivery routes or moving freight at night between cities, these are solid, reliable jobs that support thousands of families. Professionals like Ina and Stephanie prove that women not only can be successful in this business, but can reach the highest levels of performance excellence and achievement."
Both Daly and Klang have served as Captains of the American Trucking Associations' "America's Road Team," and both have surpassed 2 million consecutive, accident-free miles. They have received Con-way's CEO Constellation Award, the company's highest employee award for professional accomplishment, leading by example and demonstrating the company's core values.
Con-way Inc. is a $5.5 billion freight transportation and logistics services company that delivers services through its primary operating companies Con-way Freight, Con-way Truckload and Menlo Logistics.