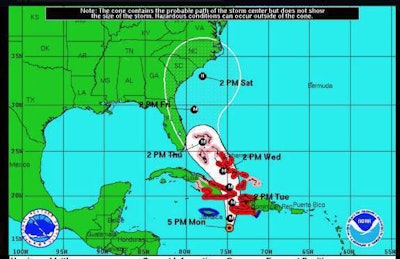 If you're on the way to the Southeast, keep an eye out for potentially dangerous weather.
As of Tuesday, Oct. 4, evening, Hurricane Matthew continues to batter the Caribbean, and appears to be headed for much of the U.S. East Coast from Florida to New England.
The Weather Channel says the hurricane is expected to hit the Southeast U.S. as early as Thursday, bringing high winds heavy rains and flooding. States of emergency have been declared in Florida and South Carolina, with numerous closings and coastal evacuations ordered.
Keep track of Hurricane Matthew on Twitter.
Keep track of the storm on Florida's Division of Emergency Management's website.