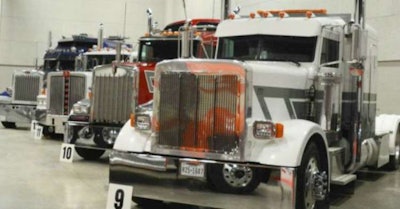 If you have questions about upcoming regulations including how e-logs operate, take them with you to the Mid-West Truck & Trailer Show.
The show is coming up Feb. 3-4 in Peoria, Illinois.
This year's show will have representatives from state and federal agencies, including the FMCSA, present for open discussion and to answer drivers' questions. Members of Congress from both sides of the aisle will also be there to discuss on what may happen in the trucking industry moving forward.
"All these new regs are coming down and if truckers have questions, they can get them answered at the show," said Don Schaeffer, a representative for the Mid-West Truckers Association, which puts on the show.
Another new opportunity at this year's show is the increased number of ELD vendors who will be exhibiting their products.
"A lot of the vendors have come out with new generations of ELDs that they're displaying and they're going to do product demonstrations and show how they work and how they're going to work with existing systems," Schaeffer said.
The Trucker's Pride Beauty Contest will feature 25 show trucks competing in various categories. The truck show also puts on the Pinewood Derby Contest, where participants create and race small wood big rigs.
"It'll be a busy two days for anyone who decides to come and it will be very productive," Schaeffer said.
The pre-registration deadline for the event is Jan. 30. The registration fee for full access to the show for both days, including the convention and seminars, is $170. Partial registrations are available for individual's who are only able to attend one day of the show. One-day registration for Friday is $95; Saturday is $100. To attend just the trade show, registration is free and can be done in advance or on-site.