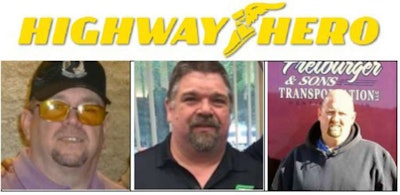 Three drivers who risked their own lives to save those of others are the finalists for the the 34th annual Goodyear Highway Hero Award.

The finalists, who were announced Thursday, Feb. 16, are:
Chris Baker from Chicopee, Massachusetts
Tim Freiburger from Huntington, Indiana
David Webb from Billings, Montana
Goodyear Tire & Rubber Company officials will announce the winner March 23, at the Mid-America Trucking Show in Louisville, Kentucky.
"The Goodyear Highway Hero Award is the oldest and most prestigious honor of its kind," said Gary Medalis, marketing director, Goodyear. "Goodyear is proud to recognize truck drivers who risk their own lives to save others."
Here's why these three are finalists for this year's Highway Hero Award:
Baker was driving down a New Jersey highway when he spotted flickering lights ahead. Pulling closer to investigate, he found a minivan that had flipped over onto its side. Flames erupted from the vehicle's engine. Grabbing his fire extinguisher, he ran to the van and put out the fire. By then, the van's passenger had escaped and crawled to safety, but its unconscious driver remained inside, hanging from a seat belt. Working with a bystander, Baker unfastened the driver's seat belt, grabbed him by the arm, and pulled him away from the van. Baker stayed by his side until rescue crews arrived. The man survived and did not suffer any significant injuries.
Freiburger was driving through Indiana when he saw a car lose control and drive into a creek, where it flipped and came to a stop, upside-down in standing water. Freiburger raced to the car, which contained a mother and her three children. He broke a window and pulled the children out of the car. After carrying them to the creek's bank, he returned to the car, ripped open its door, and rescued the mother. He stayed with the family until paramedics arrived. The family suffered only minor bruises as a result of the accident.
Webb and his wife, Carol, were driving through Washington State when they observed a dump truck in the next lane swerve. Webb pulled up to the dump truck and noticed that its driver was slumped over the steering wheel. As the dump truck slowed, Webb parked his own truck and ran after the still-moving vehicle. Webb jumped onto the dump truck's running board, opened the door, reached in and applied the brakes, bringing the truck to a complete stop. As Carol called 911, Webb, working with a bystander, pulled the driver, who was not breathing, out of the truck and was performing CPR on him when help arrived. The driver was hospitalized and survived.
A panel of trucking industry journalists will select the winner.
The winner of the Goodyear Highway Hero Award will receive a special ring, a cash award and a trophy. Each of the other finalists will receive a cash prize and other items.