Update: The Massachusetts Turnpike will begin restricting tandem trailers and specially permitted vehicles at 7 a.m., Tuesday, March 14.
New Jersey Governor Chris Christie has declared a state of emergency, and the state police are advising against any unnecessary travel. Speed and truck restrictions are in place on I-78, I-80 and I-95 in certain areas.
Our original story:
Be prepared for some "interesting" weather if you are in or traveling to or through the Northeast later today, Monday, March 13 through Wednesday, March 15.
The National Weather Service defines "interesting" as a major winter storm that is taking aim on the Northeast. Meteorologist Ari Sarsalari of the Weather Channel is calling the weather system it named Stella "an incredibly damaging storm." Part of this storm is already being felt in the Midwest and Great Lakes.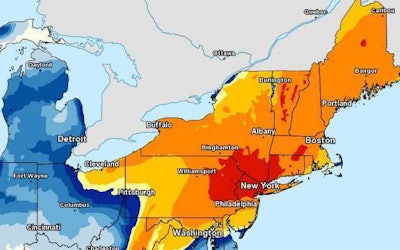 Starting this evening the storm is expected to drop as much as 20″ of snow in some locations, including the major cities along the East Coast. It is forecast to deliver from 1″ to 4″ of snow per hour along the I-95 corridor from Boston to Philadelphia and possibly Washington, D.C. Boston and New York City can expect for as much as 18″ of snow.
Forecasters say that snow will be driven by winds up to 60 mph in some regions.
The National Weather Service says:
"Things get interesting for the East Coast beginning Monday night. A low pressure system crossing the Midwest states and Ohio Valley is expected to phase with another low off the southeast U.S. coast. This will allow for a strong nor'easter to develop near the coast and cause a late-season snowstorm from the central Appalachians to New England, including many of the big cities in the Northeast U.S. Widespread winter storm warnings are now in effect for heavy snowfall accumulations, with some areas likely getting in excess of a foot from eastern Pennsylvania to southern New England. The tricky part of the forecast deals with the rain/snow line over the Mid-Atlantic region with a tight gradient in accumulations expected near the greater Washington DC metro area. Closer to the coast from southern New Jersey to the Carolinas, rain is expected with amounts in excess of an inch likely."
In New York, Gov. Andrew Cuomo has declared a state of emergency for the entire state as of midnight Monday, and is asking motorists to avoid unnecessary travel. A statement from the governor warns, "Motorists, especially tractor trailers, should be prepared for road closures across the state."
Keep track of highway conditions here for:
Airlines have already cancelled more than 1,500 flights because of the storm.