UPDATE: With the widespread winter storm causing travel problems, the Pennsylvania Department of Transportation today, March 14, restricted all trucks from Interstate 84.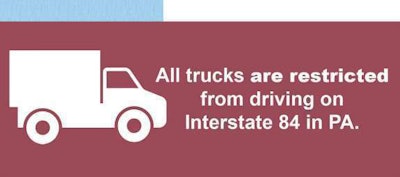 Pennsylvania DOT said it is leaving the Interstate 81 corridor open to trucks, but advises truckers should consider taking steps to find parking and delay moving to the New York border, where the ban is implemented.
The new restriction is on top of already imposed restrictions on interstates in central and eastern Pennsylvania. Speed limits are reduced to 45 mph and the affected interstates are closed to tandem trailers, empty trailers, buses, motorcycles, recreational vehicles and towed trailers.
The storm hammering the Northeast is expected to continue throughout the day Tuesday.
Our original story:
Pennsylvania Gov. Tom Wolf today signed a proclamation of disaster emergency in anticipation of the major winter snowstorm expected to hit the Northeast Monday night and Tuesday, March 13 and 14, and announced PennDOT and the Turnpike will restrict speeds on interstates and some large commercial vehicle travel.
In addition, the proclamation authorizes the Department of Transportation to waive regulations related to drivers of commercial vehicles in order to ensure the timely movement of commodities, particularly food and home-heating fuel.
A statement from the governor's office said, "To help PennDOT and PA Turnpike crews get the optimum access to the interstates and expressways during the storm, beginning at 10 p.m. Monday, these restrictions will be in place on all interstates and expressways east of Interstate 99 and including Interstate 99:
45 mph speed limit
Ban on tandem truck trailers, empty trailers, towed trailers, buses, recreational vehicles, and motorcycles."
These restrictions will be in place on Interstates 70, 76, 78, 80, 81, 83, 84, 283, 176, 180, 476, 380 and all expressways not on the interstate system. The Turnpike will have the same restrictions beginning at 10 p.m. Monday from the Bedford Interchange east to NJ and on the entire Northeastern extension. PennDOT is also cancelling all superload permits for movement on Tuesday.