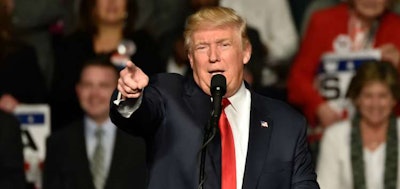 While the Mid-America Trucking Show opens in Louisville, Kentucky Thursday and expects to attract some 70,000 visitors, a small but potentially important industry gathering is planned in Washington, D.C.
James Jaillet, writing in Overdrive, reports President Donald Trump is expected to meet with trucking industry stakeholders, including drivers and carriers, Thursday to discuss healthcare, said White House Press Secretary Sean Spicer.
"The president will hold an event with
truck drivers
and representatives from the trucking companies and industry on healthcare and its negative impacts on their industry and livelihood, which just happens to be the largest employer in 29 states," Spicer said Monday, March 20 during the White House's daily press briefing.
That was the extent of Spicer's announcement of the event.
The White House has released no other details about the meeting, including when and where it will take place or how many trucking industry representatives will attend.