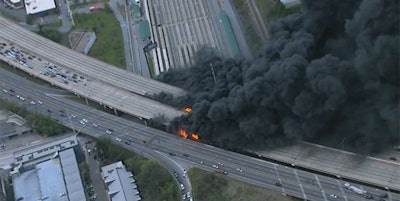 Georgia Department of Transportation officials say part of I-85 will be closed in both directions "for the foreseeable future" after a massive fire caused a bridge to collapse Thursday at about 7 p.m.
The bridge is located on I-85 northbound just south of Georgia 400 near Piedmont Road.
Officials say they do not know the cause of the fire. Multiple media outlets are reporting that the FBI says the fire was not an act of terrorism.
No injuries have been reported.
The Georgia DOT says traffic on Georgia 400 South is being diverted onto exit 1/Sidney Marcus Road/I-85 North, while traffic on I-85 South is being diverted onto exit 86 Georgia 400 North.
Georgia Gov. Nathan Deal declared a state of emergency Thursday night.