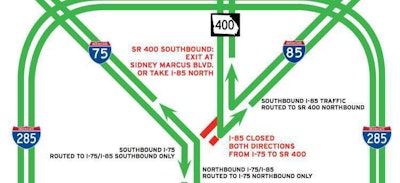 Update: Police in Atlanta have arrested three people in connection with the fire that led to the collapse of a section if I-85 in Atlanta Thursday evening.
Numerous media outlets report that police have arrested Basil Eleby, charging him with first-degree criminal damage to property and saying he set the fire. Also charged with criminal trespass were Sophia Bruner and Barry Thomas. All three are said to be homeless.
Police have not suggested any motive for the fire.
Here's our original story:
It could have been worse.
That's the assessment of one Georgia trucking official of a fire and the collapse of a bridge on I-85 in Atlanta Thursday evening.
"It's irritating, but not disastrous," for most truck traffic said Ed Crowell, president and CEO of the Georgia Motor Trucking Association.
Crowell said through truck traffic is required to use the I-285 bypass around the city. The exception is for those making local deliveries.
He added it could have been a lot worse had the fire and bridge collapse occurred on a section of I-85 outside the city.
He said drivers may see some modest disruption but "no huge impediment."
During a press conference at 8 a.m. today, Georgia Department of Transportation Commissioner Russell McMurry said "extensive reconstruction activities" will be required to repair a section of I-85 in Atlanta that collapsed during a massive fire Thursday, March 30.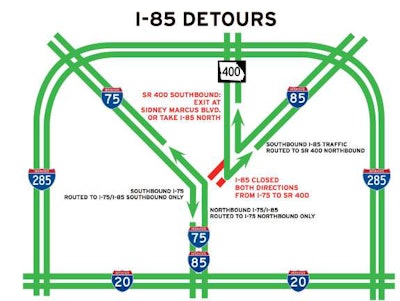 He also said investigation into the cause of the fire, which began about 7 p.m. in a storage area that contained PVC pipe, continues.
The Atlanta Police Department issued a list of road closings (see below).
No one was injured in the fire that occurred under I-85 northbound just south of Georgia 400. GDOT expects this section of I-85 to be closed "for the foreseeable future."
McMurray's said:
"Georgia DOT Bridge Inspectors were on scene at the location of the I-85 bridge collapse overnight. Earlier this morning, a determination was made that the southbound sections of I-85 received damage from the fire requiring the replacement of those sections, as well as the collapsed section on the northbound bridge and possibly other adjacent sections.
"The extent of the fire-related damage necessitates extensive reconstruction activities to ensure the safety of motorists. We began design of the known damaged sections last night and continue designs as information is received. At this time, we do not have an anticipated duration for the repairs as we have not been able to fully access the site due to hotspots, but we do know that it is expected to be a time consuming event."
Truckers making local deliveries within the city ought to be aware of the Atlanta Police Department traffic plan that was released today:
Effective immediately, the following streets/roadways will be closed indefinitely to traffic, according to APD:
Northbound Piedmont is closed at Lambert Drive

Southbound Piedmont is closed at Buford Connector – all vehicles must turn onto Buford Connector to get to I-85 SB

Access to I-85 North off of Piedmont Circle is also blocked

Lenox Road at Ga. 400 SB is blocked

There is no access from Sidney Marcus onto Buford Highway

SB on Buford Highway must turn onto Sidney Marcus

West Peachtree can only continue onto Peachtree Road and cannot access Buford Connector NB

The intersection at Lambert Drive and Manchester is closed