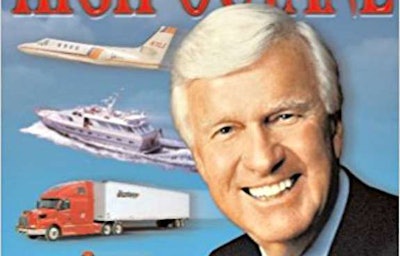 A prominent figure in trucking in the Midwest and nationally has passed.
C. James McCormick of Vincennes, Indiana died Monday, May 22. He was 92.
Mr. McCormick began a long career in trucking after World War II when he started a small produce-hauling business. In the 1950s and '60s, he purchased several trucking companies, but sold the business to Briggs Transportation in 1977 and focused his attention on McCormick, Inc., the car and truck dealerships he owned. He sold trucks and trailers as well as Packard automobiles. In 1981 he acquired a trucking company that would become Bestway Express, which is still operated by three of his grandsons.
Mr. McCormick's life was chronicled in the book High Octane: A Rearview Mirror Retrospective.
Mr. McCormick was the former chair of the Board of the American Trucking Associations, and a life member of the ATA board of directors, as well as director and past chair and president of the Indiana Motor Truck Association, Inc.
"The entire ATA family is saddened by Jim's passing," said ATA President and CEO Chris Spear. "He was a giant in our association and in our industry. All our thoughts and prayers are with the McCormick family in this difficult time."
Indiana Gov. Eric J. Holcomb also commented on Mr. McCormick's passing:
"I'm deeply saddened by the news of Jim McCormick's passing. Jim was a dear friend, neighbor, and mentor to me and so many others in business, government, higher education and philanthropy. Over a legendary lifetime, Jim's contributions to the welfare of our state and nation are immeasurable. Janet and I offer our sincerest condolences to his family and friends as they mourn the loss of this giant of a man."
Mr. McCormick was also a longtime member of the board of trustees of Vincennes University. University President Chuck Johnson issued this statement about Mr. McCormick's death:
"The Vincennes University family is deeply saddened by the loss of C. James McCormick who served on the VU Board of Trustees with distinction for almost two decades. His service on the VU Board, including six years as its chair, were remarkable years of progress thanks in part to his visionary leadership and generous philanthropy, particularly in support of the Mac McCormick Scholarship and the creation of the Red Skelton Museum of American Comedy. Jim's legacy of service to others will live on at Vincennes University, the VU Foundation, the Skelton Museum Foundation, and the community, state, and nation he loved."
Mr. McCormick served almost 20 years on the VU Board of Trustees. Indiana Governor Mitch Daniels appointed McCormick in January 2007 to complete the term of McCormick's late son, C.J. "Mac" McCormick III, who died on Oct. 26, 2006. This marked the second time that McCormick had served as a member of the VU Board of Trustees. He also served from 1990 through 1999, including six years as chair of the VU Board. He followed in the footsteps of his father, the late Clarence McCormick, who also served as chair during his service on the VU Board of Trustees from 1953 to 1976.
He was a former vice president of the board and member of the executive committee of the Automotive Hall of Fame, and former chair of the board of the National Highway Users Federation and the Indiana Highway Users Federation. He was a director of Broker's National Life Assurance Company, Little Rock, Arkansas, and was actively involved in the Fellowship of Christian Athletes for over 40 years.
Mr. McCormick was a lifelong resident of Knox County. He was married to the former Bettye Gramelspacher for more than 50 years, and she passed away on Feb. 28, 1997. He and Bettye were the parents of four children and 10 grandchildren. Their youngest son, C.J. "Mac" McCormick III, died on October 26, 2006, just five days after his 55th birthday.
In 1998 McCormick married Marilyn Hanson, who has three children and four grandchildren.