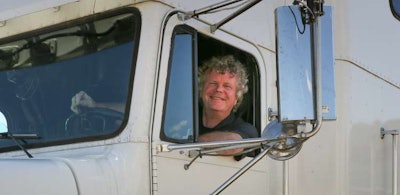 There is a section in Finn Murphy's new book about his life as a household goods mover — a bedbugger in trucker parlance — that may be all too familiar to some drivers.
Murphy and his crew were moving the belongings from the mansion of an extremely well-off family; the house had a separate wing just for all of the live-in staff. Since he and his guys would be there all day, Murphy inquired if there was a restroom they could use. The man said no, and directed them to the porta-johns at a construction site down the road.
Not all of the stories in Murphy's book, Long Haul: A Trucker's Tales of Life on the the Road are this disheartening. Not even close.
Murphy spins great — and honest — stories about being a young man with a strong back and even stronger Irish work ethic getting started in the demanding line of work that is household goods hauling. The book, which arrives on shelves Tuesday, June 6, also details his long career and what he has learned from years on the road.
Between trips recently, Murphy talked about the book, his career and moving other people's stuff, including all the "chowder."
Long Haul is available in print, for e-readers and as an audiobook at Amazon.