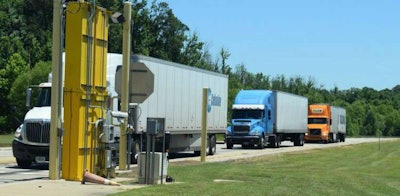 If you haven't gotten your truck, your load and yourself ready for next week's 72-hour-long International Roadcheck inspection blitz, time is running out.
The Commercial Vehicle Safety Alliance's annual inspection spree is Tuesday, June 6 through Thursday, June 8 across North America, and will focus on cargo securement. While this is a normal part of CVSA's Level I inspections, the organization says its inspectors will focus on cargo securement as a reminder to drivers and fleets.
To help prevent violations related to load securement during the inspection spree, CVSA reminds drivers to make sure the load and all equipment are properly secured, and to inspect tie-downs for wear and damage.
Violations related to cargo securement include:
failure to prevent shifting/loss of cargo
failure to secure truck equipment
damaged tie-downs
insufficient tie-downs
loose tie-downs.
The group has put together tips and a flyer for cargo securement.
CVSA says an average of 15 trucks and buses will be inspected every minute across North America during the 72-hour event.