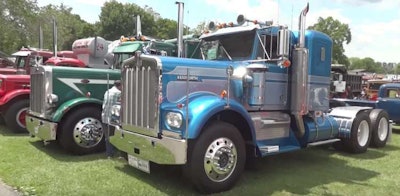 The warmer summer months are the prime time for truck shows and June is no exception. In addition, June in the trucking industry gets rolling with a major annual inspection blitz.
The American Truck Historical Society has a full schedule of chapter and regional shows on the June calendar. The Wheel Jam Truck Show in South Dakota will kick off the month Friday and Saturday, June 2-4, and later in the month the NAST Great Lakes Truck Show will return to Dundee, Michigan, June 23-25.
The 30th Annual Commercial Vehicle Safety Alliance International Roadcheck is quickly approaching. The event will last June 6-8 and CVSA said it expects to inspect about 15 trucks or buses every minute across North America.
Here's what's happening in June:
June 2-3: ATHS Baraboo Truck Show at Sauk County Fairgrounds in Baraboo, Wisconsin
June 2-3: Missouri Truck Driving Championships at Branson Convention Center in Branson, Missouri
June 3: Maryland Truck Driving Championships at Maryland State Fairgrounds in Lutherville-Timonium, Maryland
June 2-4: Wheel Jam Truck Show at South Dakota State Fairgrounds in Huron, South Dakota
June 3: ATCA Delaware Chapter Truck Show at Riverside Battery Park in Delaware City, Delaware
June 4: Ocean State Vintage Haulers 23rd Annual Antique Truck Show at Johnson War Memorial Park in Johnston, Rhode Island
June 6-8: 30th Annual Commercial Vehicle Safety Alliance International Roadcheck
June 8-10: ATHS West Michigan Chapter Show at Muskegon County Fairgrounds in Fruitport, Michigan
June 9-10: ATHS Intermountain West Chapter Greeley Truck Show at the Bunkhouse at Island Grove Regional Park in Greeley, Colorado
June 9-10: Oak Grove Truckers Jamboree at Interstate 70, Exit 28 in Oak Grove, Missouri
June 10: Minimizer Bandit Big Rig Series race at Greenville Pickens Speedway in Easley, South Carolina
June 10: ATHS Redwood Chapter Truck Show at General Equipment Enterprise Court in Napa, California
June 10: ATHS Southeast Iowa Chapter Truck Show at Ottumwa Park and Camp Ground in Ottumwa, Iowa
June 10-11: ATCA Connecticut Yankee Chapter Show at Bethlehem Fairgrounds in Bethlehem, Connecticut
June 16-17: ATCA's 38th Annual National Meeting at Macungie Memorial Park in Macungie, Pennsylvania
June 17: ATHS Minnesota Metro Truck Show at GATR Volvo Mack in Elk River, Minnesota
June 17: ATHS Northwest Chapter Truck Run to Longview at Pacific Fibre Products Inc. in Longview, Washington
June 17-18: ATHS 6th Annual Ohio Vintage Truck Jamboree at Ashland County Fairgrounds in Ashland, Ohio
June 23-24: ATHS Four States Blair Street Truck Show at Blair Street in Silverton, Colorado
June 23-25: Texas Trucking Show at NRG Center in Houston, Texas
June 23-25: NAST Great Lakes Truck Show at Cabela's in Dundee, Michigan
June 24: Ultimate Vintage Truck Show at Gilmore Car Museum in Hickory Corners, Michigan
June 24: ATHS Hiawathaland Chapter Truck Show at Nuss Truck and Equipment in Rochester, Minnesota
June 24: Cars and Coffee and 1237 Central Park Drive in O'Fallon, Illinois
June 24-25: Adrian Steam Show on Interstate 49 and U.S. 71 in Adrian, Missouri
June 25: ATHS Nutmeg Chapter Antique Truck Show at Route 169 in Brooklyn, Connecticut