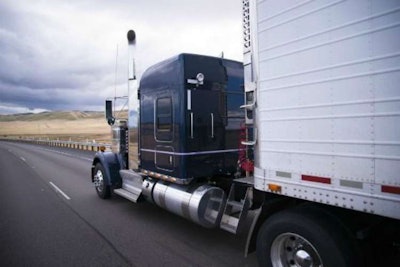 The trucking industry is known for its community of events and truck shows, and 2017 is shaping up to be a promising year.
In 2017, National Truck Driver Appreciation Week falls on Sept. 10-16. Through the week, trucking companies and related businesses and organizations will honor truck drivers with recognition, discounts and more.
The annual Great American Trucking Show takes over Dallas once again in August, with over 500,000 square feet of exhibit place and vendors of all natures.
Truckers News has compiled industry events for 2017 in one calendar, listed below.
Do you know of any event that isn't listed or that has changed dates or location? Tell us about it in the comments or email Truckers News' associate editor Deanne Winslett at [email protected].
January
Jan. 8-12: Transportation Research Board's 96th Annual Meeting at the Walter E. Washington Convention Center in Washington, D.C.

Jan. 14-18: National Private Truck Council's Private Fleet Management Institute in Jacksonville, Florida

Jan. 16-19: National Biodiesel Conference + Expo in San Diego, California

Jan. 20-23: California Trucking Association's 63rd Annual Membership Conference at Monterey Plaza Hotel and Spa in Monterey, California

Jan. 23-26: Heavy Duty Aftermarket Week at The Mirage in Las Vegas, Nevada

Jan. 23-27: The Commercial Vehicle Safety Alliance's (CVSA) Cooperative Hazardous Materials Enforcement Development (COHMED) Program in Savannah, Georgia

Jan. 29 – Feb. 1: National Motor Freight Traffic Association Annual Meeting in Cape Coral, Florida
February
Feb. 3-4: Mid-West Truck and Trailer Show in Peoria, Illinois

Feb. 16: Maryland Motor Truck Association's Shrimp and Bull Roast and Trade Show in Baltimore

Feb. 16-18: Antique Truck Club of America (ATCA) Vintage Trucks of Florida Chapter's 4th Annual Show at Paquette's Historical Farall Museum in Leesburg, Florida

Feb. 26 – March 1: American Moving & Storage Association's 98th Annual Education Conference and Expo in Palm Springs, California

Feb. 27 – March 2: TMC Annual Meeting & Transportation Technology Exhibition at Music City Center in Nashville, Tennessee
March
March 14-17: The Work Truck Show at the Indiana Convention Center in Indianapolis, Indiana

March 23-25: Mid-America Trucking Show in Louisville, Kentucky

March 26-29: Truckload Carrier's Association's Annual Convention at Gaylord Opryland in Nashville, Tennessee

March 31 – April 2: Gulf Coast Big Rig Truck Show at the Mississippi Coast Convention Center in Biloxi, Mississippi
April
April 20-22: Expocam at Place Bonaventure in Montreal, Quebec, Canada

April 28-30: 75 Chrome Shop 19th Annual Truck Show in Wildwood, Florida
May
May 5-6: Midwest Pride in Your Ride Truck and Tractor Show at Tri-State Raceway in Earlville, Iowa

May 11-13: Kenly 95's 6th Annual East Coast Truckers Jamboree in Kenly, North Carolina

May 14: Mother's Day Convoy for the Make A Wish Convoy in Lancaster, Pennsylvania
May 25-27: ATHS annual convention and truck show in Des Moines, Iowa
June
June 2-4: Wheel Jam Truck Show at South Dakota State Fairgrounds in Huron, South Dakota

June 16-17: ATCA's 38th Annual National Meeting at Macungie Memorial Park in Macungie, Pennsylvania

June 23-25: Texas Trucking Show at NRG Center in Houston, Texas

June 23-25: NAST Great Lakes Truck Show at Cabela's in Dundee, Michigan
July
July 13-15: Walcott Truckers Jamboree at the Iowa 80 truck stop in Walcott, Iowa

July 15: Truck Function in Junction at Junction City High School in Junction, Oregon

July 16: ATCA Uncle Sam Chapter 14th Annual Antique Truck Show at Washington County Fairgrounds in Greenwich, New York
August
Aug. 4-6: Carlisle Truck Nationals and the Big Rig Show and Shine in Carlisle, Pennsylvania

Aug. 4-6: Shiawassee County Fair Truck Show at Shiawassee County Fairgrounds in Owosso, Michigan

Aug. 9: National Truck & Step Van Driving Championships

Aug. 11-12: Waupun Truck-n-Show in Waupun, Wisconsin

Aug. 13: ATCA Mid Hudson Chapter 14th Annual Truck Show at Ulster County Fairgrounds in New Paltz, New York

Aug. 24-26: Great American Trucking Show in Dallas, Texas
September
Sept. 10-16: National Truck Driver Appreciation Week, nationwide

Sept. 14-17: Richard Crane Memorial Truck Show in St. Ignace, Michigan

Sept. 22-23: Guilty by Association Truck Show at 4 State Trucks in Joplin, Missouri
October
Oct. 6 & 7: All Mack Show at Gerhart's Machinery in Lititiz, Pennsylvania
Oct. 11: Wreaths Across America Charitable Gala at Gaylord National Harbor in National Harbor, Maryland
Oct. 14-15: California Trucking Show at Ontario Convention Center in Ontario, California
November
December
Dec. 16: National Wreaths Across America Day