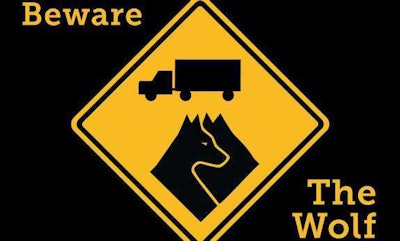 Just as the Colorado Department of Transportation has been warning truck drivers to be cautious driving through Wolf Creek Pass on US 160, a video posted to Facebook shows why the agency's admonition to "Beware The Wolf" makes sense.
On Wednesday, July, 12, a tractor-trailer loaded with beer had to use a runaway ramp to stop while traveling over the pass. The stop was caught on video by a trailing motorist.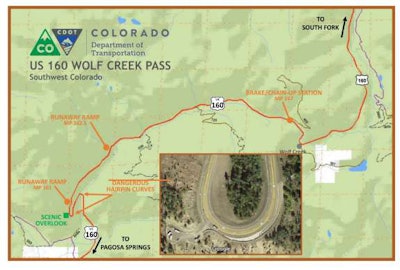 Rachel Smith told Denver's KUSA-TV, "I just crossed over the top of the pass and I could smell brakes and there wasn't anybody around. As I got closer I could see a truck and he was just smoking like crazy, and I knew then he was in trouble."
Colorado State Patrol reports that the truck driver, 25-year-old Adam Catic, of Missouri, was uninjured when his truck came to a stop in the runaway ramp. However, he did lose much of the 41,000 pounds of beer he was carrying.
In the "Beware The Wolf" campaign, CDOT deputy superintendent of maintenance Bill Pentek said, "The number of crashes over the years underscores the need to slow down over this mountain pass. From 2011 to 2015, there have been 49 semi-truck crashes on the west side of Wolf Creek Pass. Two of those crashes resulted in needless fatalities."
CDOT offers some tips on how to safely travel the Wolf Creek Pass:
Check brakes before descending the pass.
Maintain a low speed, in low gear. Use flashers to warn other vehicles of the truck's low speed.
Do not "ride" the truck's brakes. This will cause overheating and possible loss of the brake system. Jake Brakes (or compression brakes) can be a useful braking mechanism to help control the speed of a heavy truck. However, the best practice is to remain in low gears to avoid overheating.
Keep brakes cool by pulling into brake stations or onto the shoulder of the road, if a safe spot can be located.
And, yes, this is the same Wolf Creek Pass C.W. McCall made famous in his song of the same name describing a trip he and Earl made on "37 miles o' Hell" in a 1948 Peterbilt. (Listen to it below.)