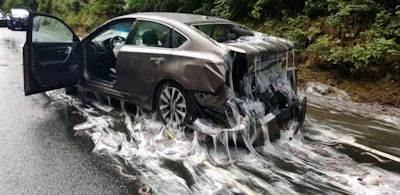 In a scene straight out of Ghostbusters, some motorists on Oregon's Highway 101 got slimed Thursday afternoon when a truck carrying almost four tons of hagfish — also known as "slime eels" and "snot snakes" — tipped over.
Oregon State Police report that the truck was traveling on U.S. 101 near mile post 131 west of Salem when the fish spill occurred. The driver of the flatbed, identified as Salvatore Tragale, reportedly was slowing at a construction site, couldn't stop and the tuck tipped spilling the containers filled with what Smithsonian.com calls, the "most disgusting animals in the ocean, if not on earth."
One of the 13 containers of live fish landed on a car, which caused several cars to strike each other.
What turned the mishap into a major traffic problem was the defense mechanism of the hagfish. When stressed — and falling off a truck onto the highway might qualify — the creatures secrete a thick slime, which expands in water. During Thursday's crash, that slime covered nearby vehicles and the roadway.
Video by the Depoe Bay Fire Department of the accident scene cleanup shows a bulldozer having to scrape the fish and their slime off the highway. The highway was closed for several hours.
The Oregon State Police say no injuries in the mishap.
Various media reports say the hagfish were caught off the coast of Oregon and were being shipped to South Korea, where they are considered a delicacy.
In this heat… what is this going to start smelling like in the next few days????? pic.twitter.com/3FqSwXeSMP

— Oregon State Police (@ORStatePolice) July 13, 2017
Thanks @OregonDOT pic.twitter.com/SmwHtWLeQ3

— Depoe Bay Fire Dist. (@DepoeBayFire) July 13, 2017