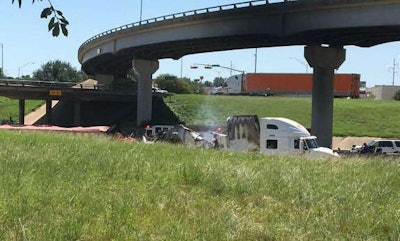 Three people died — including one truck driver — in a fiery six-vehicle accident on I-35 in Waco, Texas Tuesday, July 12, afternoon.
Four tractor-trailers were involved in the accident that closed I-35 for several hours. Five other people, including three truck drivers, were injured.
The names of the victims have yet to be released.
Part of the accident occurred under the overpass from S. Valley Mills Drive onto the northbound lanes of I-35. Texas Department of Transportation officials said the overpass was structurally damaged by flames. Further inspection was to have occurred today.
The driver of one of the trucks told KWTX-TV what happened.
"I was looking out the mirror and I heard (a noise), it hit the other two cars behind me, and he (the truck driver behind him) slammed both of those cars into my trailer," said Harry Turner, who drives for Contract Freighters Inc. "My trailer got on fire and I had to jump out. When I opened my door and got out of the tractor, I seen my tractor was bent like this, and the end of it was on fire with two cars up under it."
Police continue to investigate.
Waco, Texas accident

Five people die in crash on I-70 in Kansas
Also on Tuesday, five people died in a crash involving two tractor-trailers and four other vehicles on I-70 in Bonner Springs, Kansas.
WDAF-TV in Kansas City reports a truck hit another vehicle, setting off the chain reaction accident and fire.
Names of the victims have yet to be released.
Bonner springs, Kansas accident