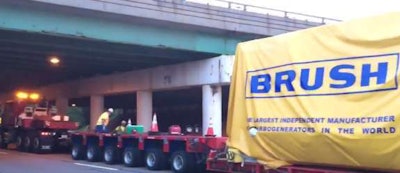 A 560,000-pound mega-load that was stranded in Rhode Island because it was not properly permitted got rolling again earlier this week.
The massive generator aboard a 16-axle flatbed got rolling Monday, July 10, after being stopped mid-trip for almost two weeks. The load was traveling along I-95 when it was spotted by a Rhode Island Department of Transportation employee. When checked, it was found the load had no permit.
To get moving again Bay Crane Northeast, which was making the move, agreed to a $25 million insurance policy, pay for police escorts and pay $60,000 to reimburse the DOT.
The generator is on its way to Medway, Massachusetts.
At 11pm on @NBC10, LIVE update on where overweight truck is on its way to Medway, MA pic.twitter.com/4iZcpeO09L

— Jared Pelletier (@NBC10_Jared) July 11, 2017
.@RIStatePolice say truck taking same route that was agreed upon Friday from Warwick to Medway, Ma. Police escorting it to Mass border pic.twitter.com/09cWDQjSS1

— Jared Pelletier (@NBC10_Jared) July 11, 2017
Truck weighing approx 560,000lbs set to make journey from Warwick park & ride to Medway, MA @NBC10 pic.twitter.com/SZUCSOlfR5

— Jared Pelletier (@NBC10_Jared) July 10, 2017