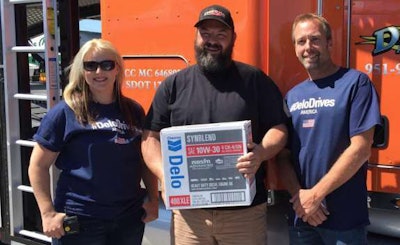 In order to spotlight the transition to a new diesel engine oil formulation this year, Chevron launched this week its Delo Game Changers campaign and Road Trip, and one of the most popular stars of the reality TV show Ice Road Truckers is part of the effort.
Lisa Kelly is part of the 19-stop campaign that highlights innovations that have spurred the industry forward, including the debut of API CK-4 and FA-4 heavy duty engine oils (HDEO) last year. The road trip will recognize individuals across the country that are forging innovative paths in agriculture, trucking and construction.
"Ever since World War II, when Chevron created the first compound diesel engine oil to help U.S. submarines stay at sea more than three times longer than they could have with straight mineral oils, Chevron has been an industry game changer," said Rommel Atienza, Delo North America brand manager. "Now with the transition to the latest generation of diesel engine oil, we want to spotlight people who have changed our world for the better."
To celebrate the 120th anniversary of the invention of the diesel engine this year, Chevron – with the help of Love's Travel Stops & Country Stores – Kelly joins the three-month cross-country trip to promote new HDEO technology – ISOSYN Advanced Technology – the proprietary difference behind the new Delo 400 product line.
Kelly will be joined at some locations by Edgar Hansen of Discovery Channel's Deadliest Catch and travel across the U.S. with stops at Love's stores. Event attendees will have the opportunity to register for a chance to win a free oil change and other prizes. Dale Kitchens from the web-based reality series Edge of Farming will also be featured during the tour.
To follow the Delo Game Changer Road Trip across the country, fans can log onto ChevronDelo.com/GameChangers, and follow Delo on Facebook.