Wilson Logistics today announced it purchased select assets of Haney Truck Lines, a longtime fixture in the Pacific Northwest trucking industry.
Based in Yakima, Washington, Haney has 400 power units and more than 1,200 trailers. It specializes in heavy haul and truckload transportation in the western U.S., and British Columbia, and Alberta, Canada. Haney traces its roots to several Northwest trucking companies going back to 1923.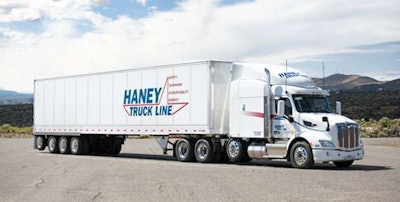 Peter Carlander, previous CEO of Haney Truck Line, will continue in an upper-management role within Wilson Logistics, according to a statement from Wilson.
"We are honored to bring Haney Truck Line's rich history and expertise into our organization, and we look forward to quickly achieving our goals of immediate growth, providing remarkable service to our customers, and building long-lasting relationships with our professional drivers and associates," said Wilson Logistics founder, President and CEO, Darrel Wilson.
This is the latest of several acquisitions for Wilson, which is based in Springfield, Missouri. The company acquired Jim Palmer Trucking in 2014, O&S Trucking in 2016 and RJ's Transportation earlier this year.
"The Haney team looks forward to joining the growing Wilson Logistics family," said Carlander. "We will be able to bring our specialized service offering to the existing Wilson Logistics portfolio and provide all our customers with improved service."