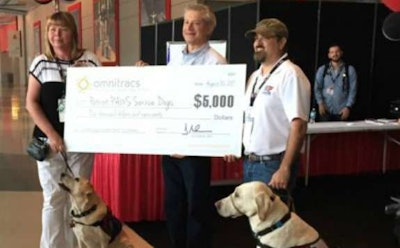 Omnitracs' announced the winners of its Big Rig Buddies pet photo contest during the Great American Trucking Show last week in Dallas, with the top winners taking home monetary prizes.
The first place photo contest winner was Cody, co-driver to trucker Michael Scott, who drives for Paschall Truck Lines. Scott says Cody loves road life and meeting people. They won a $700 gift card.
"He listens to all my problems, my good news, and whenever I am having a bad day he is there with his under-bite smile and unconditional love in his eyes," Scott said.
Warren Potter and his dogs Max and Pepper won second place and a $300 gift card. Potter, who drives for Kenneth Hite Trucking LLC, says his dogs keep life interesting while he's on the road.
"They keep me company every day, keep me active by taking them for walks and guard my truck while I'm away and sleeping," Potter said.
Omnitracs plans to make Big Rig Buddies an annual event.
Omnitracs also donated $5,000 to Patriot PAWS Service Dogs. The organization provides trained service dogs for veterans.
Lori Stevens, founder and executive director of Patriot PAWS, accepted the donation and said, "My husband has actually been a truck mechanic for 40-something years so to have the truck show, it's really exciting to have it a part of it. We're really excited to be here and thankful for Omnitracs' help."