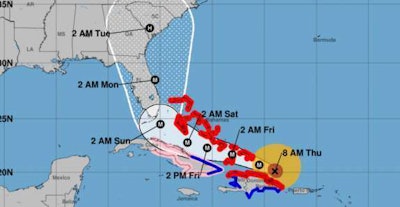 The Federal Motor Carrier Safety Administration Wednesday issued a regional emergency declaration in advance of Hurricane Irma for the states of Alabama, Florida, Georgia, Mississippi, North Carolina, South Carolina, Tennessee, the Commonwealth of Puerto Rico and the territory of the U.S. Virgin Islands.
As of 5 a.m. today, the official forecast from the National Hurricane Center includes Irma making landfall as a Category 4 storm in southeast Florida near Miami Sunday morning, according to WJCT in Jacksonville. But, it remains uncertain when and where the storm will turn north. Both Broward and Miami-Dade county residents were instructed to leave their homes this morning.
The emergency declaration triggers the temporary suspension of certain federal safety regulations for motor carriers and drivers engaged in emergency relief, including direct assistance for the immediate restoration of essential services (such as electrical, sewer, water, and telecommunications) or essential supplies (such as food, water, medical supplies, and fuel).
According to the FMCSA, carriers and drivers must adhere to these requirements:
Drivers responding to provide "direct assistance" to an "emergency" meeting the definitions in 49 CFR 390.5 and declared by FMCSA or a governor, are exempt from applicable regulations in all States on their route to the emergency , even though those States may not be involved in the emergency or stated in the declaration of emergency.
These exemptions, when in effect, only apply to 49 CFR Parts 390-399. They do NOT exempt drivers/carriers from the requirements relating to CDL, drug/alcohol, hazardous materials, size & weight, or State/Federal registration and tax requirements. (However, a Governor's Declaration may add some of those exemptions – read the declaration for details.)
Even if an emergency declaration is still in effect, the emergency must be on-going and you must be providing direct emergency assistance in order to be exempt from safety regulations.
The FMCSA maintains websites for information about Irma and Hurricane Harvey, which hammered Texas and Louisiana.