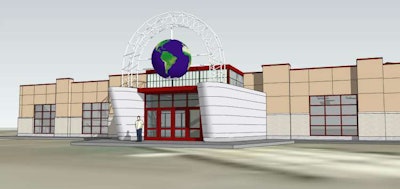 Several travel centers continue to grow and expand across the country:
Iowa 80 is adding 23,000 square feet
A new hotel adjacent to a Love's in Utah has opened
A new Pilot is about to open in Kansas City, Missouri
Iowa 80 expansion includes more food options
Iowa 80 Truckstop in Walcott, Iowa recently started a three-phase, $10 million expansion that will add 23,000 square feet to its already 100,000-square-foot main building.
The expansion extends the main building to the west toward the gas islands that were installed last year. The company says the food court will move to this area and include one or two more dining options, and new food preparation areas and equipment will be installed throughout.
In addition, the convenience store will be expanded to offer more healthy "grab-and-go" foods, and the main entry and merchandise areas will be expanded.
"The new entry is going to be really beautiful and welcoming," says Delia Moon Meier, Senior Vice President.
The expansion includes creation of a boulevard that leads drivers to the diesel islands, truck service center, Truckomat truck wash and truck parking areas.
"We will have an extra wide roadway with curbs, lighting and signage," said Delia Moon Meier, senior vice president. "There will even be a beautiful new arch welcoming drivers into the truck entrance. We really want this to have a Main Street USA feel."
Truck parking areas will also be reconfigured to pull-in, pull-out spaces to provide better organized traffic flow for drivers. The 900 truck parking spaces will be retained with the likelihood of expanding, according to a statement from the company.
Iowa 80 will remain open providing all services and amenities during the expansion.
The entire project is scheduled to be finished by the end of 2018.
Holiday Inn Express opens near Brigham City Love's
InterContinental Hotels Group and Love's Hospitality announce the opening of a new 82-room Holiday Inn Express & Suites adjacent to the Love's Travel Stop in Brigham City, Utah.
Professional drivers receive a 20 percent discount by showing their CDL.
The hotel features an indoor pool, a 24-hour fitness center, 24-hour guest laundry center, an outdoor grill and covered patio and a 24-hour business center with copy and fax services along with free high-speed internet access. It also offers a complimentary breakfast bar.
Love's now owns 17 hotels nationwide.
New Pilot in Kansas City includes six diesel lanes
A new Pilot Travel Center opens in Kansas City, Missouri this week.
The new facility is located at 8801 NE Birmingham Road and is Pilot Flying J's 24th location in Missouri.
The new Pilot includes:
15 truck parking spaces
two showers
six diesel lanes with high-speed pumps
PJ Fresh
Public laundry
Western Union
Pilot and Flying J Travel Centers operates 750 locations across North America.