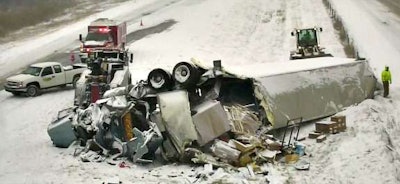 Winter doesn't officially arrive for another week, but cold and blowing snow have created difficult driving conditions and caused numerous accidents around country. And, the bad news is that more is on the way for parts of the Midwest and Northeast.
This afternoon, a tractor-trailer crash on eastbound I-69 near Lennon, Michigan tied up traffic for several hours.
Elsewhere in the state, 10 vehicles, including four tractor-trailers, were involved in a weather-related pileup on US-131 near Reed City. Two people were injured in the mishap.
On Tuesday, lake effect snow caused a series of crashes on the Indiana Toll Road. Eight semis were involved in the seven accidents that occurred within a one mile stretch of the highway near Mishawaka, Indiana. While no serious injuries were reported, the highway was shut down for several hours.
The National Weather Service is saying much of the country can expect more of the same the rest of the week. Take a look: