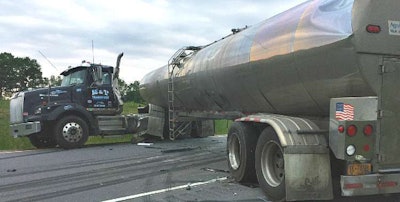 Two high-profile senators have introduced bipartisan legislation that would require underride guards be added to the front and sides of tractor/trailers and update the ones on the rear. The guards are intended to protect car occupants in crashes in which the car slides under the trailer.
Sens. Kirsten Gillibrand (D-New York) and Marco Rubio (R-Florida) Tuesday unveiled the Stop Underrides Act of 2017, which calls for:
underride guards on the sides and front of a truck
update what they call "the outdated standards for underride guards on the back of trucks"
require the annual inspections of large trucks include checking the underride guards
require the Department of Transportation to review underride standards every five years
Gillibrand and Rubio were joined by Reps. Steve Cohen (D-Tennessee) and Mark DeSaulnier (D-California) in announcing the legislation. Both had underride-related fatal accidents in the districts they represent.
"With so many unpredictable accidents on the road, underride guards are an easy solution for protecting people and preventing them from dying when a car collides with a truck," said Gillibrand. "This bipartisan legislation would save lives, and we should pass it as quickly as possible to keep Americans safe while they're driving, whether they're heading to see family and friends for the holidays or driving to work on their morning commute. I urge all of my colleagues to join me and Senator Rubio on this bipartisan bill."
The Gillibrand-Rubio legislation comes just shy of five months after New York's senior Sen. Charles Schumer, also a Democrat, called for underride guards following a July 5 truck accident on I-81 in northern New York in which four people died. Schumer is said to have given his support to the proposed legislation.
See the full text of the bill.
The American Trucking Associations earlier this year said that while the side guards may improve safety, they're not sold on the fact a mandate is needed. "For example, side underride guards would add significant weight and require stiffer trailers which can develop cracks in the frame rails during normal operation – wearing out sooner and creating a safety issue of potential trailer failure during operation," the organization said in May.
ATA contends that more work is needed to implement active safety systems — those that prevent crashes from occurring in the first place — than on passive safety systems, those that protect drivers and occupants after crashes occur.