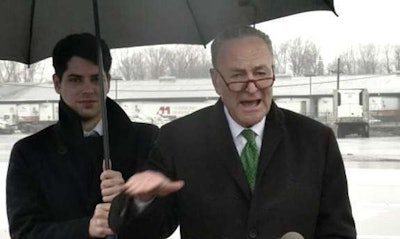 U.S. Senate Minority Leader Chuck Schumer (D-New York) Tuesday once again asked for the installation of underride guards on all tractor-trailers.
He was joined at a press event by the family of Edward "Eto" Torres, who died in a collision with a tractor-trailer during severe winter conditions on eastbound I-90 Jan. 2.
Schumer renewed support for the Stop Underrides Act of 2017, which requires underride guards on the sides and front of a truck and updates standards for underride guards on the back. He said Torres' death in a 75-vehicle pileup on the Thruway east of Buffalo could have been prevented by underride guards.
"Underride guards are a proven technology that will save lives and make our roads safer," said Schumer Tuesday. "We all know the roads can be treacherous during a (Western New York) snowstorm. Drivers trying to get to work or bring their children to school should not have to worry about truck safety standards that are lacking. Eto Torres was a good man, a family man, and he could have been better protected if the truck he collided with was equipped with underride guards."
The Stop Underrides Act of 2017 was introduced in December by Sens. Kirsten Gillibrand (D-New York) and Marco Rubio (R-Florida). The legislation came about five months after Schumer originally called for underride guards. His original comments came after a July 5 truck accident on I-81 in northern New York in which four people died.
Torres died when his car struck the back of a track-trailer that had stopped for accident ahead.
In response to calls for underride guards, the American Trucking Associations last year said that while the side guards may improve safety, they're not sold on the fact a mandate is needed. It said side underride guards would add significant weight and require stiffer trailers which can develop cracks in the frame rails during normal operation. That could cause trailers to wear out sooner and create a safety issue.
ATA contends that more work is needed to implement active safety systems that prevent crashes from occurring in the first place.