The American Trucking Associations supports President Trump's call for a sweeping plan to repair the country's highways, bridges and other infrastructure. But, it disagrees with a document leaked earlier this week that is said to outline the administration's plans to increase tolls to pay for much of the work.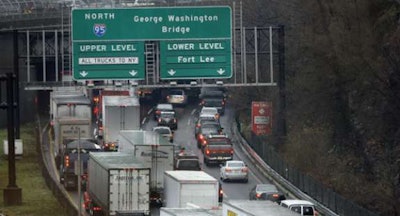 ATA today unveiled its Build America Fund, which the organization says will generate $340 billion in new revenue over its first 10 years. It would be supported, according to the ATA, "with a federal fuel user fee built into the wholesale price of transportation fuels collected at the terminal rack, phased in at a nickel per year over four years. The fee would be indexed to both inflation and improvements in fuel efficiency, with a 5 percent annual cap."
In rolling out the plan, ATA President and CEO Chris Spear called on policymakers to support what the ATA says is a "bold solution to fund the modernization of our deteriorating network of roads and bridges." At the same time, Spear took a swipe at one of the main funding mechanisms the administration has discussed.
"So-called 'creative financing' tools are a road to nowhere, as study after study shows the shortfalls of tolling and the unintended consequences that tolls impose on motorists and surrounding communities," Spear said. "There is nothing 'conservative' about tolling."
"The trucking industry is putting our money where our foot is. Trucking already pays half the nation's highway funding tab, and we are ready to pay more," said Spear. "Through the Build America Fund, the trucking industry would invest upwards of an additional $112 billion into our nation's roads and bridges over the next decade. Solving a challenge of this size requires big and bold solutions, and we call on Washington to step up with us."