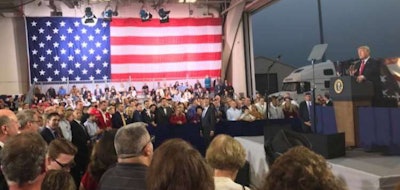 For many in the American tucking industry, rising on Monday, Jan. 1, was like waking from a year-long bad dream.
For others, the year ahead represents a clean slate and an opportunity to see some of the promises made in Washington, D.C. in 2017 possibly come true. Then again, for a lot of the men and women doing the actual driving, life in 2018 ought to be a bit better if forecasts of increased pay actually come true.
Few people have a better vantage point from which to review the year about to become history than our colleague James Jaillet. As the news editor for Overdrive and Commercial Carrier Journal and frequent contributor to Truckers News, Jaillet covered the major stories and some of the controversies that made news in 2017. That's why we asked him to join us on this year-end edition of the Truckers News Podcast.
Hear what Jaillet has to say: