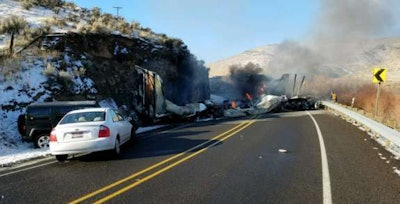 Both drivers of two tractor/trailers that collided in western Oregon died Saturday morning.
The crash occurred on U.S. 20 west of Harper, at about 9:10 a.m. Mountain Time.
KTVB reports that OSP says a truck heading east entered the westbound lane, into the path of an oncoming truck. OSP says speed and weather conditions are believed to be contributing factors in the crash.
The names of the two drivers, who were confirmed dead at the scene, have not been released.
Two other vehicles were involved in the mishap, but the drivers of those cars did not report any injuries.