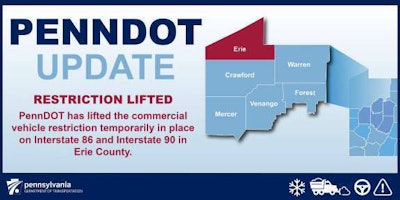 The Pennsylvania
Department of Transportation
has lifted the commercial vehicle restriction temporarily in place on Interstate 86 and Interstate 90 in Erie County.
Truck travel had been banned Tuesday following a record-setting snowfall on Christmas Day and into Tuesday. Areas around Erie, Pennsylvania got as much as 5 feet of snow.
However, the speed reduction of 45 mph remains in place on Interstate 90, Interstate 86, and Interstate 79 in Erie County.
A statement from the state said, "Although PennDOT crews have been treating roadways, the department's primary goal is to keep roads passable, not completely free of ice and snow. PennDOT will continue to treat roadways throughout the storm until precipitation stops and roads are clear."
PennDOT resources from throughout the region have been temporarily reassigned to Erie County to assist with snow removal for the duration of the winter weather storm.
The statement added:
Motorists are reminded to use extra caution when approaching bridges and highway ramps where ice can form without warning. Motorists should leave plenty of space – six car lengths – when following a truck that is plowing or spreading winter materials.