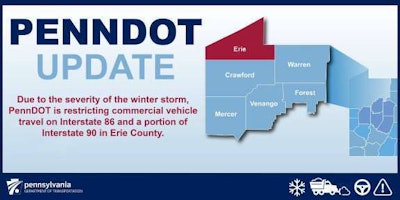 A winter storm is causing trouble for motorists — especially truckers — in western Pennsylvania near Lake Erie and the New York border.
The Pennsylvania Department of Transportation issued this advisory today:
Due to the severity of the winter storm, PennDOT is restricting commercial vehicle travel on Interstate 86 and a portion of Interstate 90 in Erie County.
The restriction is in place for Interstate 86 and Interstate 90 from the New York state line to the Interstate 79 interchange. Included in the restriction are lightly-loaded or empty semi-trucks, double trailers, recreational vehicles, non-commercial vehicles towing trailers, and motorcycles.
PennDOT is urging motorists to avoid unnecessary travel but those who must head out will see speeds reduced to 45 mph on Interstate 90, Interstate 86, and Interstate 79. Speed reductions in Crawford and Mercer counties have been lifted.
Additional PennDOT resources from throughout the region have been temporarily reassigned to Erie County to assist with snow removal for the duration of the winter weather storm.
The Buffalo News reports, "Erie (Pennsylvania) picked up 19 inches of new snow from midnight to 6 a.m., (today) according to the National Weather Service office in Cleveland. "This brings the storm total to 53 inches over the past 30 hours, shattering many records," the weather service tweeted Tuesday morning. The 4.5 feet of snow reported is the greatest two-day total ever in the entire state of Pennsylvania, meteorologists said."
Although PennDOT crews have been treating roadways, the department's primary goal is to keep roads passable, not completely free of ice and snow. PennDOT will continue to treat roadways throughout the storm until precipitation stops and roads are clear.