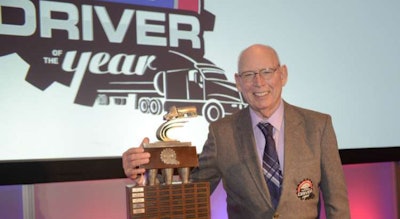 A veteran trucker for an Iowa carrier was recently named the Professional Tank Truck Driver of the Year Grand Champion by the National Tank Truck Carriers.
Paul Emerson, a 47-year professional driver for Foodliner Inc. of Dubuque, Iowa, accepted the William A. Usher Award during the NTTC's 70th annual conference at the Fairmont Royal York Hotel in Toronto, Ontario, Canada. The Professional Tank Truck Driver of the Year Award recognizes the best drivers in the tank truck industry, and is sponsored by Protective Insurance.
Emerson was one of eight finalists chosen based on accident-free miles, industry and company leadership, communication and public speaking skills, and overall industry knowledge. He has driven more than 2 million accident-free miles, and is a previous Oklahoma Trucking Association Driver of the Year Runner-up, a three-time Oklahoma Defensive Driving Award recipient, and is a scout master for the Boy Scouts of America. He earned his CDL in 1970.
The other finalists included:
Dennis Rollins of Florida Rock and Tank Line Inc. of Jacksonville, Florida
David Kuehn of Gorski Bulk Transport or Oakville, Ontario, Canada
William Donald McGariety of Grammer Industries Inc. of Columbus, Indiana
William Harrison of K-Limited Carrier Ltd. of Toledo, Ohio
Ryan Nelson of Quality Carrier Inc. of Tampa, Florida
Kelly Lien of Solar Transport of Des Moines, Iowa
Daniel Byars of United Petroleum Transports of Tampa, Florida
"Congratulations to Grand Champion Paul Emerson and our seven champion finalists for another great contest year," said NTTC President Daniel R. Furth. "Paul is a true professional and fine individual to represent our unique segment in trucking. I very much look forward to working with him as we spread our safety message across North America."
For the next year Emerson will serve as the NTTC spokesperson for the industry, attending NTTC safety-focused events throughout the year.