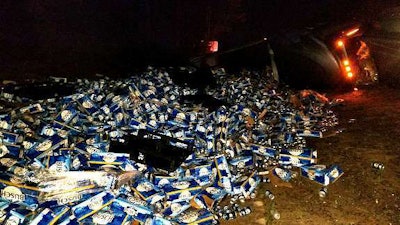 A South Carolina trucker's tractor-trailer overturned on I-10 in the Florida panhandle east of Pensacola early this morning, dumping a load of canned beer onto the highway.
The Florida Highway Patrol reports Michael Nolan Powell, 44, of Simpsonville, South Carolina, was westbound on I-10 at about 2:40 a.m. when the truck he was driving went onto the right shoulder and overturned.
FHP reports Powell's load of 60,000 pounds of canned Busch beer spilled onto the highway.
The Okaloosa County Sheriff's Department posted on Facebook that Powell suffered minor injuries.