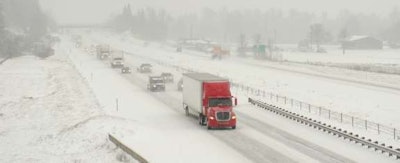 Gov. Andrew M. Cuomo today issued a travel advisory for all areas east of I-81 as well as a travel ban on tractor trailers on certain roads beginning at 8 a.m. due to impending hazardous winter weather.
All tractor-trailers, tandem trailers, buses, box trucks, and other high profile vehicles will be restricted from entering the following roadways:
New York State Thruway from Exit 36 (Syracuse) to the New York City line, including the Berkshire Spur to the Massachusetts State Line, I-95, Garden State Parkway Connector and I-287
I-88 from Binghamton to Albany
I-81 from Pennsylvania line to the New York State Thruway
Route 17 Binghamton to I-84
I-84 from the Connecticut State Line to the Pennsylvania State Line
I-684 from I-84 to I-287
"It is imperative that we keep roadways clear and people safe," Cuomo said. "We are implementing this ban on tractor-trailers so our plow operators, fire, law enforcement and emergency personnel can keep roads clean and respond to emergencies as quickly as possible. All motorists are encouraged avoid travel as much as possible and if travel is necessary, do so using extreme caution."
The forecast calls for the second nor'easter within a week to deliver:
5 to 10 inches of snow is expected in the North Country with up to 12 inches in higher elevations of Hamilton and Essex counties.
Central New York, the Mohawk Valley, Capital and Mid-Hudson Valley regions are forecast to receive 6 to 12 inches of snow, with up to 18 inches forecast for higher elevations in the eastern Catskills.
New York City and Long Island could see 8 to 12 inches of snow with less expected for the Twin Forks of Long Island where rain may mix in. Three to 8 inches are possible in these locations.