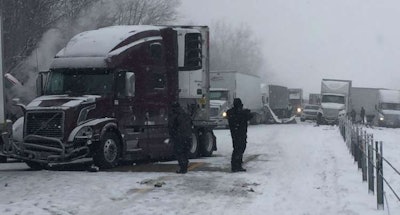 Seventeen tractor-trailers were involved in a massive pileup on westbound I-94 at mile marker 45 near Hartford in southwestern Michigan this morning.
WXYZ-TV reports that an additional 12 other vehicles were involved in the mishap caused, in part by lake effect snow. The pileup occurred at about 9:20 a.m., and closed the interstate for several hours.
Michigan State Police did not have details of injuries.