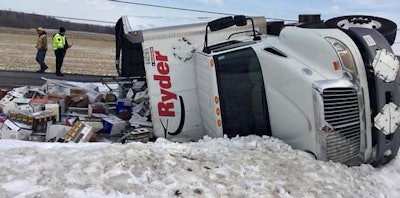 A rather large Super Bowl bash could have been supplied with the contents of a truck that toppled over Thursday morning in western New York.
State Police report the driver of a tractor-trailer swerved to miss a car that had entered his lane of Lewiston Road in rural Genesee County between Rochester and Buffalo. In getting back on the road from the shoulder, the truck's trailer tipped spilling its load of liquor headed to Lockport.
Troopers said the trucker was uninjured.