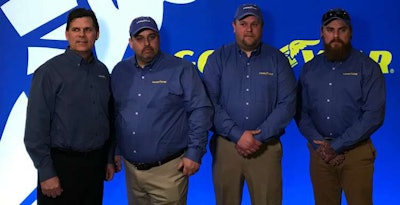 A veteran Canadian trucker whose quick actions saved a motorist's life is the winner of the 35th annual Goodyear Highway Hero Award presented during the Mid-America Trucking show in Louisville, Kentucky Thursday.
Frank Vieira a local tanker driver from Ancaster, Ontario, Canada was presented with his award, including $5,000 during ceremonies at the Crown Plaza Hotel. Also honored were this year's two other finalists Brian Bucenell from Richmond, Virginia and Ryan Moody from Tacoma, Washington.
"It's nice to feel that you were at the right place at the right time to help someone," said Vieria, who drives for Connell Transport in Hamilton, Ontario, and has logged more than 8 million miles in his career.
While driving near Toronto last year, Vieira heard a loud crash and  saw that a car had struck a parked roll-off truck. He stopped and ran to the car's driver and found that the vehicle's steering wheel had broken and pierced the diver's neck. With his left hand he applied pressure to slow the bleeding and with his right hand he called 911. Vieria said the roll-off truck's driver came to help, saw the blood and fainted; his leg was in the lane of oncoming traffic so Vieria used his leg to pull it back to safety.
"It all seems like it was half an hour but it was just three minutes," he said. "It's amazing."
While the 48-year-old Vieria insists he is not a hero, he said he hopes what he did ""inspires all drivers, especially new drivers, to have more willpower to perform these extraordinary acts."
"Since 1983, the Goodyear Highway Hero Award has honored truck drivers who have rescued children from drowning, pulled injured people from burning vehicles, saved law enforcement officials from attackers and more," said Gary Medalis, marketing director for Goodyear. "Every truck driver we've met through the Goodyear Highway Hero Award program has been just that: a hero. And today, we are proud to add Frank Vieira to that list."
Bucenell was recognized for helping police end a high speed chase in Ohio and Moody helped save an injured motorcyclist by positioning his truck to shield the fallen rider from traffic. Both received a trophy and cash award.