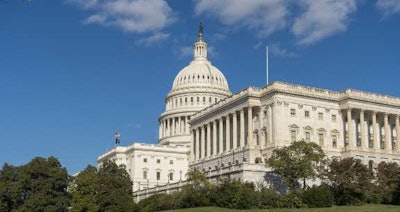 Several organizations — including trucking's leading owner-operator group — have sent a letter to the federal government opposing two pieces of legislation that would lower the age requirement for getting a CDL and driving from state to state.
The Owner-Operator Independent Drivers Association joined 13 other organizations in signing a letter sent to the House of Representatives Committee on Transportation and Infrastructure opposing H.R. 5358, the Developing Responsible Individuals for a Vibrant Economy (DRIVE-Safe) Act and H.R. 3889, the Waiving Hindrances to Economic Enterprise and Labor (WHEEL) Act. The letter was sent earlier this week.
Read the full text of the letter here.
"We think it's irresponsible to put young drivers behind the wheel of a truck in order to avoid addressing the real problems of high turnover," said Todd Spencer, acting president of OOIDA in a statement. "The focus should instead be on fixing the staggering turnover rate with better pay and working conditions."
The letter addresses that point:
"Both bills also exacerbate a foundational safety problem in the trucking industry. Rather than proposing dangerous initiatives to get teenagers behind the wheel of 80,000 pound trucks, Congress should instead be focusing on the causes of the staggering driver turnover rate, which remains above 90 percent among large truckload carriers, and its impact on safety. This perilously high rate decreases safety, as drivers who leave the workforce are immediately replaced with less experienced individuals in an effort to keep labor costs as low as possible and avoid improving working conditions."
The American Trucking Associations has backed the DRIVE Act, which would allow drivers between 18 and 21 years old, to cross state lines, but only after they've cleared certain training requirements.
Also signing the letter were:
Catherine Chase, President, Advocates for Highway and Auto Safety
Joan Claybrook, Chair, Citizens for Reliable and Safe Highways (CRASH)
Georges C. Benjamin, MD, Executive Director, American Public Health Association
Steve Owings, Co-Founder and President, Road Safe America
Dawn King, President, Truck Safety Coalition
Jack Gillis, Director of Public Affairs, Consumer Federation of America
Jennifer Tierney, Board Member, The CRASH Foundation
Daphne Izer, Co-Chair, Parents Against Tired Truckers
Stephen W. Hargarten, M.D., MPH, Society for the Advancement of Violence and Injury Research
Sally Greenberg, Executive Director, National Consumers League
Rosemary Shahan, President, Consumers for Auto Reliability and Safety
Andrew McGuire, Executive Director, Trauma Foundation
Janette Fennell, Founder and President, KidsAndCars.org