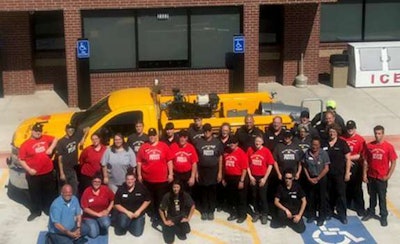 Love's today opened a new travel center along Interstate 70 in Kansas.
The new store is located at 2322 Fair Road (Interstate 70, Exit 272) in Abilene, and includes 74 truck parking spots. It also has:
a Hardee's restaurant
five showers
laundry facilities
a Love's Truck Tire Care center
"We're excited to bring another Love's to the state of Kansas," said Tom Love, founder and executive chairman of Love's. "Abilene sits on the busy stretch of Interstate 70 between Salina and Topeka. We aim to bring the level of customer service Love's is known for to all of our customers traveling through the area."
As part of the grand opening, Loves made a $2,000 donation to The Hope Center.