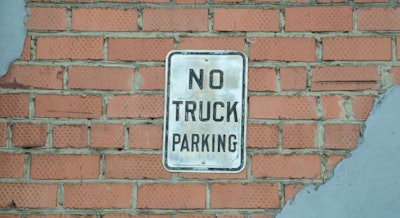 The continuing problem of adequate safe truck parking will be the topic of a discussion at the Great American Trucking Show in Dallas later this month.
Our colleague at Overdrive Senior Editor Todd Dills is organizing a panel that will discuss "… some of the more novel, nontraditional looks at truck-parking-capacity development as well as what drivers can do to be involved at local levels in increasing awareness of, and delivering intelligence around, the need" for parking.
The discussion will be held Saturday, Aug. 25 at 10 a.m. on the America Strong Stage in Hall A of the Kay Bailey Hutchison Convention Center.
Panelists include:
Moderator and former owner-operator Scott Grenerth, who is now with the Truck Specialized Parking Service company
Owner-operator and President of the Real Women in Trucking Desiree Wood
Owner-operator Gary Buchs
North Central Texas Council Of Government's Transportation Planner Mike Johnson
Allan Rutter, division head for freight and investment analysis at the Texas A&M Transportation Institute
GATS is Aug. 23 to 25 at the Kay Bailey Hutchison Convention Center. Register online here.