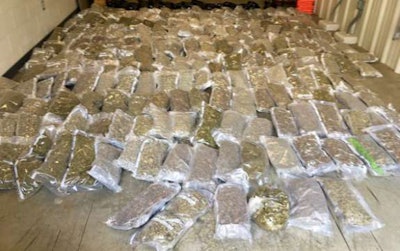 Two Florida men were arrested Wednesday morning in Indiana after police found 260 pounds of marijuana in their tractor-trailer.
Illinois State Police in a statement said a tractor-trailer traveling eastbound on Interstate 70 was stopped for a routine commercial vehicle inspection near mile marker 41 in Putnam County southwest of Indianapolis.
During the inspection, a trooper noticed what the statement said were "several criminal indicators." A search of the trailer uncovered 260 pounds of hydroponic marijuana concealed within the legitimate load of fresh lettuce. The lettuce was being transported from Colorado to Florida, according to police.
The street value of an amount this size is estimated at $1,000,000, said the police.
Arrested were Jorge Blanco-Diaz, 33, of Miami, Florida and Adan Labanino Delacruz, 40, of Cutler Bay, Florida, according to police. Both were charged with dealing marijuana, according to a statement from the troopers. Both were taken into custody and incarcerated in the Putnam County Jail.