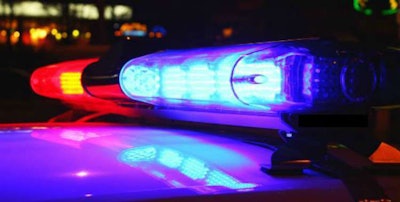 The man who took a stolen semi on a 100-mile police chase from Ohio to Kentucky has been identified by the Campbell County Police Department as 28-year-old Harold Glen Snow. He has been charged with four counts of attempted murder, fleeing or evading in the first degree, receiving stolen property over $10,000, third-degree burglary, and first-degree criminal mischief.
Snow was arrested Tuesday, Aug. 14 after being spotted and detained in Ohio. He was arrested on an unrelated theft warrant from Kentucky before additional warrants were served, according to CCPD.
The incident occurred Aug. 7 and Snow escaped on foot. He was on the run for a week before being arrested.
The semi was stolen from AC Trucking & Warehousing in Sharonville, Ohio in the early morning. The manager was able to track the truck via GPS and alerted the police. At one point, Snow took the stolen truck to a John Deere dealer in Pierce Township and loaded it up with five pieces of equipment with a value of $80,000.
Police said Snow deliberately attempted to hit civilian and police cars during the police chase. He allegedly intentionally swerved across the median into the northbound lane of U.S. 27 and drove straight toward a police vehicle with its emergency lights on. The officer driving that police vehicle was able to avoid the crash by going across the median into oncoming traffic.
Snow continued to drive the stolen semi into head-on traffic and hit a second police vehicle before coming to rest against a guardrail, and then escaping on foot. The officer in the second police vehicle was able to run toward the median and avoid being struck.
Snow has addresses in both Kentucky and Ohio.