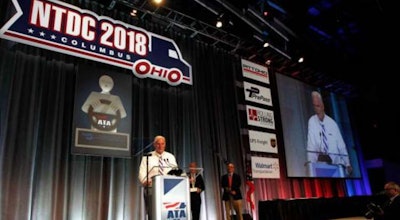 Scott Woodrome, a FedEx Freight driver from Ohio was named the Bendix Grand Champion of the 2018 National Truck Driving Championships held late last week in Columbus, Ohio. He also won the tank truck driving title.
Winners of all of the classes, who they drive for and their home state include:
3-Axle: Eric Courville, FedEx Freight, Louisiana
4-Axle: Nick Arnold, FedEx Freight, Oklahoma
5-Axle: Duane Staveness, FedEx Freight, Wisconsin
Flatbed: Steven Newsome, UPS Freight, South Carolina
Sleeper Berth: Artur Lesniowski, FedEx Ground, New Jersey
Straight Truck: Dale Brenaman, UPS, Kentucky
Tank Truck: Scott Woodrome, FedEx Freight, Ohio
Twins: Miguel Corral, FedEx Freight, Illinois
Step Van: Eric Damon, FedEx Express, Colorado
Winners of other awards include:
Rookie of the Year: Ronald Zieser, FedEx Freight, Oregon
Team Champions: Nevada
Vehicle Condition: Michael Whitehead, FedEx Freight in the 3-Axle division
Highest Written Exam Award: Three perfect scores: Michael Flippin, FedEx Freight in the Twins division; Tony Spero, ABF Freight in the Tank Truck division; and Eric Courville, FedEx Freight in the 3-Axle division
Neill Darmstadter Professional Excellence: Neil P. Nogues, YRC Freight, New Hampshire in the Straight Truck division
Sam Gillette Volunteer of the Year Award: Jerry Waddell, Cargo Transporters
Woodrome, a longtime competitor in truck driving championships with more than 1.8 million lifetime safe driving miles, has been in the trucking industry for 25 years, including 12 of those years with FedEx Freight. This is the first Bendix Grand Champion award for Woodrome, who won his state championship a perfect twelve times in twelve attempts. He lives in Middletown, Ohio with his wife Lorraine.
"Congratulations to Scott Woodrome and his team at FedEx Freight for winning this year's Bendix Grand Champion Award," said ATA President and CEO Chris Spear. "This process began with thousands of drivers competing at the state level, but only one driver can emerge as overall grand champion, and it's a testament to Scott's commitment to safety and his craft that he was able to take home top honors this year."
The 2018 National Truck Driving Championships and National Step Van Driving Championships took place Aug. 15-18 at the Greater Columbus Convention Center in Columbus, Ohio.