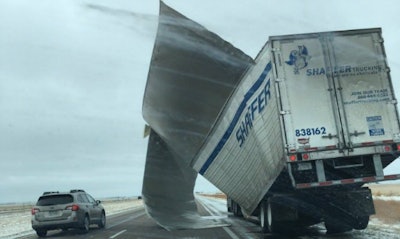 A major winter storm wreaked havoc for truckers and holiday travelers alike from Colorado and Nebraska through much of the Midwest over part of the long holiday weekend, and now has New England and parts of the Northeast in its sights.
Heavy snows and high winds left truckers and other motorists stranded. Kansas was particularly hard hit before the storm moved through Iowa, Missouri, southern Wisconsin, and Illinois on its way across the Great Lakes to New England. A record-setting 5.3 inches of snow fell on Kansas City and as much as 12 inches fell elsewhere in the state, prompting a state of emergency and the Kansas National Guard to mobilize nine Stranded Motorists Assistance Response Teams.
Accuweather today said, "Dangerous winter weather will continue to batter portions of Illinois, Wisconsin, and Michigan into Monday."
As much as 10 inches of snow was reported in Chicago. Elsewhere in Illinois, Troopers were forced to park their vehciles and travel with Illinois Department of Transportation trucks to help rescue stranded motorists.
Jackknifed truck eastbound I70 not far from Ellsworth. Backups forming. #i70 #kswx #blizzard #bruce is over but the fallout remains. #kdot @NEKansasKDOT pic.twitter.com/4wcxPU74cx

— Jennifer McCullough (@backpacktwang) November 25, 2018
A major winter storm pummels the Central Plains & Midwest with heavy #snow & strong winds. Check out white out conditions along Interstate 80 near Wilton, Iowa! #IAwx #Blizzard #BlizzardWarning #WinterStorm pic.twitter.com/fn5guMFeKG

— WeatherNation (@WeatherNation) November 25, 2018