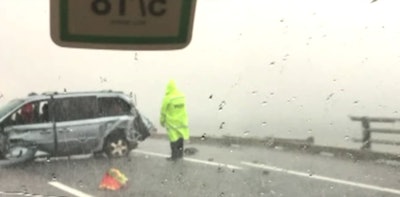 The truck driver who died after going off the side of the Chesapeake Bay Bridge-Tunnel in July was under the influence of alcohol and multiple drugs, according to a medical examiner's report.
Jervone Hall is said to have had seven drugs in his system: amphetamine, methamphetamine, cocaine, ethanol, ephedrine/pseudoephedrine, benzoylecgonine (a product of metabolized cocaine) and THC (the active ingredient of marijuana).
The Norfolk, Virginia medical examiner's report of the July 27 accident shows Hall had a blood alcohol content of .062, which is over the .04 legal limit for a commercial vehicle driver. The amount of meth in his system, detailed in the toxicology report, was roughly five to six times the amount considered drugged driving in the commonwealth, according to a story in the Virginian-Pilot.
Hall's tractor-trailer struck a minivan in heavy rain before going off the side of the 17-mile-long bridge. A passenger in the truck also drowned.