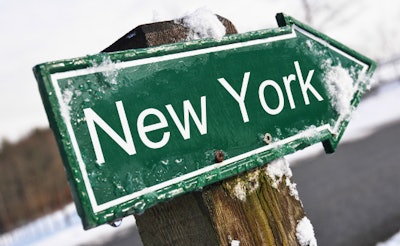 Tractor-trailers will be banned from certain highways in western New York beginning at 8 p.m. tonight and on portions of the Interstate-81 corridor beginning Wednesday at noon as heavy snows and frigid temperatures are expected.
Most areas in the path of the storm will see 6 to 8 inches of snow, with the exception of areas that typically experience lake effect snow, including southern Erie County, the Chautauqua Ridge in Western New York, and the Tug Hill Plateau in Northern New York that could see significantly higher amounts of snow through Friday morning, according a statement from the state. Western New York could get as much as 4 feet and Northern New York could see from 4 to 6 feet.
As the weather system winds down, a polar vortex moving in from the north will deliver dangerously cold wind chills late Tuesday night and continue through Thursday. Blowing snow and freezing temperatures will result in near-blizzard conditions. New Yorkers should travel only if necessary.
Beginning at 8 p.m. tonight, tractor trailers and will be banned from the New York State Thruway from Exit 46 (Rochester I-390) to the Pennsylvania border as well as Interstate 190, Interstate 290, State Route 400, U.S. Route 219 from Peters Road to Interstate 90; and State Route 5 from State Route 179 to I-190.
Beginning at noon Wednesday, tractor trailers and commercial buses will be banned on Interstate 81 from the Canadian Border to State Route 104.
The bans will last for the duration of the storm.